ROSENEATH: Palliser Road, Wellington
New Zealand Silver Award 'Rework Interior Contemporary - Wall Coverings'
Reasons why this Property Won
A Contemporary Architectural dwelling with simplicity and sophistication.
Quality workmanship with attention to detail, choice and style of wall coverings.
Protection of exposed surfaces – carpets, furnishings, bench tops and stairs, finished walls and ceilings.
Happy customers and positive feedback from friends and family.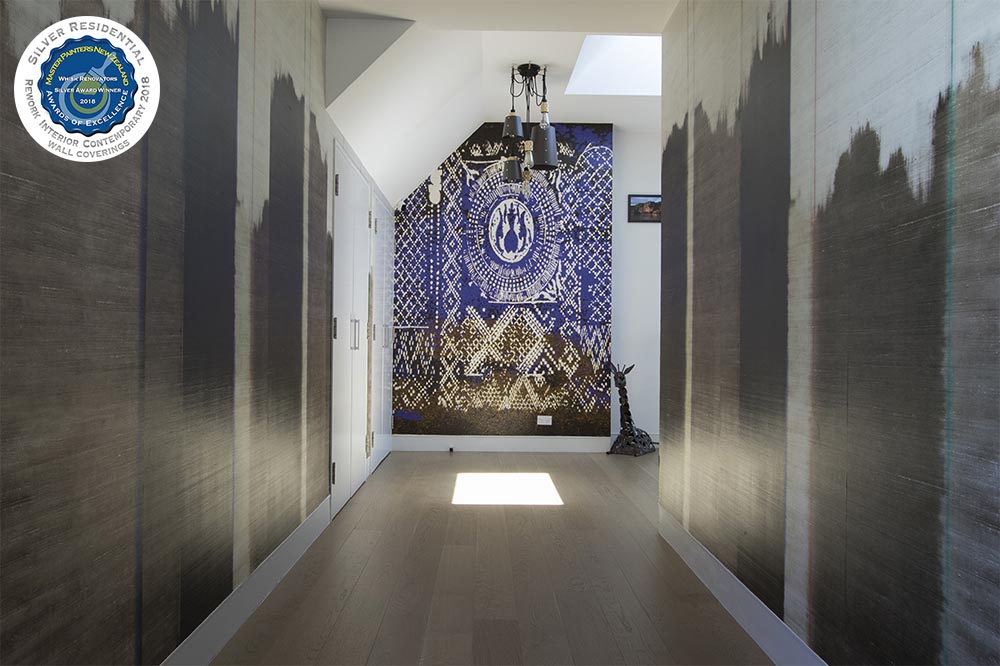 Properties Composition
Property is an architectural home with three internal flights of stairs to various living areas. It also houses a lift to each level or to the swimming pool on the ground floor. Its contemporary design embodies today's sophistication and yet at the same time is minimal and simplistic.
The home has style and energy with a strong emphasis on line and form, two essentials of good design. These rooms are designed with abundant open spaces and natural light in mind, making them feel airy and expansive. Its simplified style and design elements, with Geometric shapes, are complemented with an all-white décor and feature wallpapers throughout.
Processes, Products and Papers
Prior to starting, all interior surfaces were dusted and vacuumed to eliminate contamination and dust particles from being deposited onto wallpaper and glues. The walls were coated with wall size, with some walls painted to the coloured paper prior to hanging. This was done to disguise possible shrinkage of papers in the future and avoid seeing a 'white' line between sheets on coloured prints.
When deciding on wallpaper, it was important for the owners to know what papers were available and for what uses. We provided the following descriptions to help define the right paper for the space and then a print within that paper they liked.
Printed papers: Come in a huge range of colours, designs and qualities, from mass-produced, machine-printed designs to high quality hand-printed patterns.
The hand-printed versions are of course more expensive than their machine-printed counterparts.
It was emphasised not to use printed wallpapers in areas where there is a lot of steam or condensation, as the inks used are often water-based. Clients were also made aware that attention and care is to be taken when hanging printed wallpapers, as the delicate paper can tear easily and the complex patterns can be hard to match up.
Metalized papers: Can be very attractive. These reflective patterns can help to lighten up a dark corner, but care is needed in your choice as they tend to use a lot of dark colours.
Because of the reflective nature of these papers, foil wallpaper shows any lumps and bumps on the wall so we had to make sure the walls were as smooth as possible before we started.
Care was taken not to get any wallpaper paste on the foil as it would ruin the reflective coating. Foil papers are often 'paste the wall' type papers as this makes them easier to hang.
Flock wallpaper: One of the more expensive options. A velvet-like fibre pattern gives a very luxurious, old-fashioned feel.
It is hard to resist stroking flock wallpaper, so they can easily become marked. Flock is also a tricky wallpaper to hang, as it takes skill to avoid getting any paste on the flock, which will mark and ruin the texture.
Anaglyptic wallpapers: These are thick, durable papers that are embossed with a pattern. There are a huge number of patterns available.
Sometimes anaglyptic are available in colour, but usually they are designed to be painted with emulsion paint.
The typically high grade of these papers make them easy to hang, and the embossing means they are suitable for covering slight imperfections in the wall. However, they are prone to stretching, so care is needed when hanging. Everything about this interior, colour, style, materials, adds drama without detracting from its streamlined feel.
Distinguishing Features
A contemporary home set amongst character homes. It epitomizes a contemporary dwelling in every way.
Architecturally designed using materials from multiple sources.
Elevated expansive views on every level.
Private sun drenched deck.
Indoor swimming pool
Imported and local Wallpapers
Products Used
Resene Pigmented sealer
Wall size, glue
Imported and local wallpapers
This property was completed mid-November 2017 and has been admired by many in the suburb.
The Clients were extremely happy with the processes, products and workmanship with which it was carried out. They are thrilled with the properties look and feel, and are enjoying the comforts of a well-designed and styled home.
If you would like a no obligation quote Contact Jeff at Whisk Now