HATAITAI: Kainui Road, Wellington
New Zealand Silver Award 'Rework Interior Contemporary'
Reasons why this Property Won
A 100-year-old property that is now well maintained and modernised to today's building standards and colour schemes.
The existing paint, and underlying coats had failed by varying degrees, resulting in the need for surfaces to be stripped to bare timber before painting commenced.
The task of scaffolding the two-story bay villa 3.0m-stud property.
Removing lead based paints from the site.
Health and Safety Compliance in the use of respiratory masks and gloves.
Maintaining a clean work site with appropriate disposal of stripped material.
Full warrant of fitness carried out - Asbestos and corrugated Roof removed and replaced with colorsteel, plastic spouting removed and continuous spouting installed, large amounts of rotten weatherboards replaced as well as several windows and front.
Quality workmanship with attention to detail.
Happy customers and positive feedback from people passing by.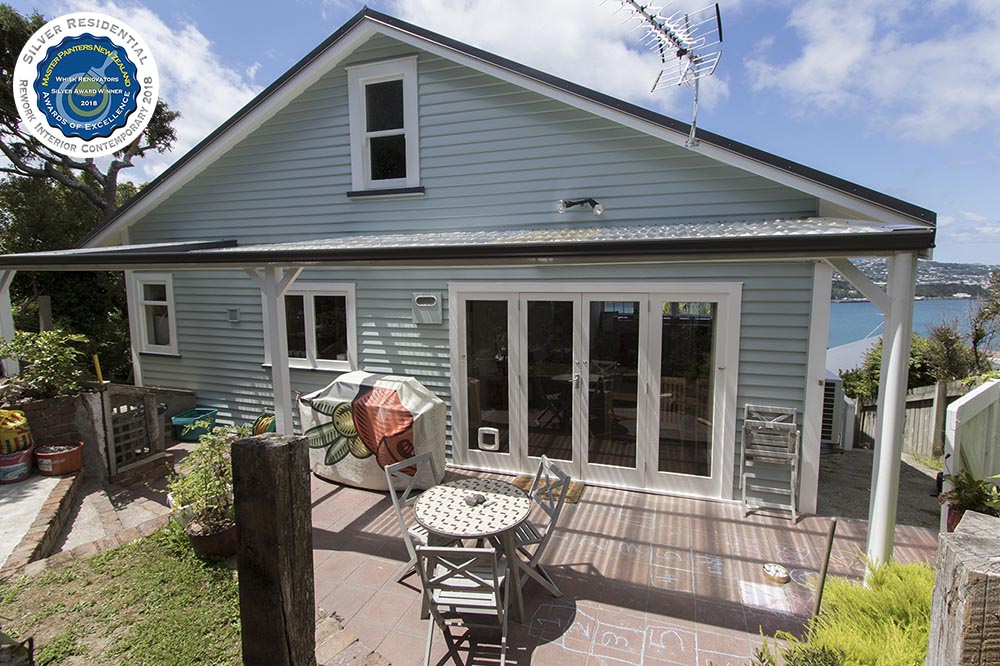 Properties Composition
Kainui Road is an elevated site with views to the South overlooking Evans Bay and Wellington Airport. The stunning outlook from the property is fully appreciated with a path zig-zagging up to the master bedroom deck. The site, coupled with its double story construction, ensures the 1917-character home has all day sun and expansive views to the South. The completed external works complement the properties fully restored interior, providing modern living in a 100-year-old home.
Paint Condition, Identification and Process
When quoting the exterior of the home, we inspected the surfaces and observed many areas showing crazed cracking, peeling and flaking paint. This allowed us to identify the initial undercoat applied on the exterior, at its time of construction, had failed. With the underlying coats having failed, we quoted to strip surfaces back to bare timber, whereby several coats of paint applied to the properties 100-year existence were removed. During the paint removal process it became obvious that the house was in desperate need of repair to its timberwork and joinery surfaces. While the scaffold was erected, the client made the decision to have the rusted galvanised window flashings and hinges replaced with stainless steel and to have the window sashes re-hung with correct clearances. A chimney was also removed due to being an earthquake risk. All material was removed from the site and safely disposed of.
The iron roof was also replaced and in doing so revealed the original asbestos roof beneath. The Building was encapsulated, asbestos removed and new coloursteel roof installed.
Timbers
The weatherboards, bargeboards, entrance porch, windows and doors were Matai and Cedar. The weatherboard profile consisted of rusticated weatherboards to the ground floor and bevel-back weatherboards to the upper level. Rotten timbers were replaced with many weatherboards custom machined to ensure a seemless transition from existing to newly installed timbers.
Dealing with lead based paint
Removing lead based paints is synonymous with old Wellington homes and Kainui Road was no exception.
Stripping paint from any house built before 1978 raises the question of lead. Given the number of coats on the Kainui Road house, we had no doubt about the presence of the heavy metal. Tests were carried out proved positive to the paints containing lead. Measures and steps were taken to remove and contain the lead by drop-sheeting the surrounding areas and gardens and using our industrial outdoor vacuum to keep areas clean and free from contaminates. With doing this type of work, to this style of property and in Wellington city, meant we were faced with the biggest challenge of all, the weather. We carefully planned our days to remove paint from the building, waiting on days that were still or with little wind. This avoided stripped material from being blowing around the section or onto neighbouring properties. The material contained on drop sheets was then simply bagged and disposed of appropriately in accordance to its requirements.
Paint strip method used
There are three basic methods for stripping paint-grinding, applying heat, and using chemicals. All of them are hard work because the same binders that cause paint to adhere make it hard to remove. We considered using several different methods before making our final choice. All paint-stripping approaches have advantages and disadvantages, just as every paint-stripping job is a little different from another. However, with the age of this house and the evidence of multiple paint layers, we chose to apply heat to all surfaces, as liquid stripping would have required many applications and subsequently prove to be a costly exercise. Heat stripping is our preferred removal option of choice, it requires careful attention to both the surfaces being heated, as well as avoiding surrounded areas such as downpipes, spouting, electrical cabling, gas piping and glass etc. Our guys are efficient and methodical in using heat and are aware of potential risks. This awareness within our company and our staff, has allowed us to provide a cost-effective heat stripping option to our Clients for the last 12 years and with great success.
As with all stripping methods that involve removal of coatings to bare wood, rusted nails are exposed and were subsequently nail punched and treated. Surfaces were then sanded before the first coat of primer was applied. Scrapers have a tendency to burnish the wood, making it too smooth and shiny to take paint. We machine sanded surfaces with 80-grit sandpaper to get a good tooth for the first coat of primer to adhere to.
Dulux Total prep was applied as the first coat followed by contract filling of holes and indentations. All surfaces were again sanded, filled areas primed and gap sealant applied. Two coats of Weathershield X10 Semi gloss were applied as a finishing coat. The Windows were finished in Dulux Aqua-enamel gloss with the front door in Resene Lustcryl.
Picking the new colour palette
While the exterior paint was being stripped we also worked with the homeowners to confirm the colours to be applied. Keeping in mind:
Radiosity – a rendering method that simulates light reflecting off one surface onto another;
The properties surrounding environment – trees, neighbouring houses, shaded and sunny areas etc.;
The properties construction, look and feel;
The fading of a colour over time.
We like to let the houses character, construction and surroundings speak for themselves, and the colour to simply linking all these key elements together to produce a beautiful looking home.
Distinguishing Features
A 2-story home on a sloping section.
Multiple French doors and exit points to outdoor entertaining.
Elevated section off the street with views over the Wellington International Airport and surrounding suburbs.
Bay windows on the front and side of the house to enhance the era of the home, size, outlook and street appeal.
Vibrant door colour.
Features of its era have been maintained and retained, providing elegant lightness to complement its solid construction.
Products Used
Dulux Total Prep
Dulux Enamel Primer and Undercoat
Dulux Weathershield X10 Semi-gloss
Dulux Aqua-enamel gloss
Resene Lustcryl
The property was completed late August and has been the discussion of many in the suburb. The clients are extremely happy with the processes quoted and the workmanship with which it was carried out. They set about the enormous task in not only having their home painted, but also having all existing paint stripped from top to bottom. All maintenance work was done as discovered and in doing so, protected the properties character and integrity. They are thrilled with the properties look and feel and have restored it to its former glory while introducing today's modern colour scheme.
The owners are enjoying the fact that there is little to do around the home except sit back and enjoy what has been achieved.
If you would like a no obligation quote Contact Jeff at Whisk Now