HATAITAI: Hohiria Road, Character Home
New Zealand Silver Award Winner 'Rework Exterior Character'
Reasons why this Property Won
A 100-year-old property that is extremely well maintained and modernised to today's building standards and colour schemes.
Health and Safety Compliance in the use of respiratory masks and gloves.
Maintaining a clean work site with appropriate disposal of material.
Quality workmanship with attention to detail and colour choices.
Street appeal and focal point to the front entrance porch and door.
Well-balanced property with landscaping to the front section complementing the paint colour.
Happy customers and positive feedback from people passing by.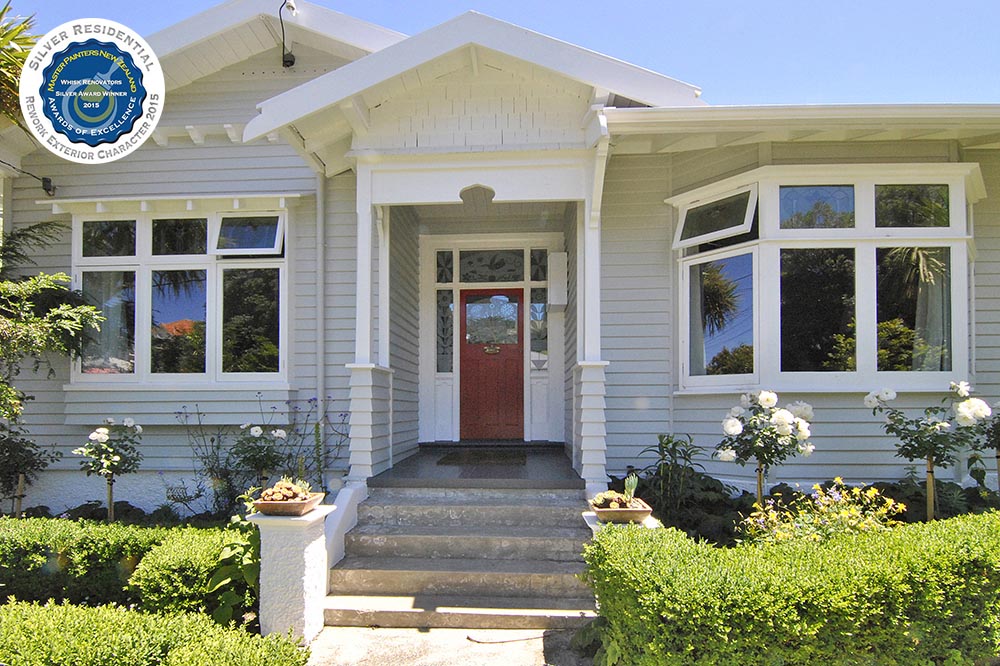 Properties Composition
The single bay villa is a well-balanced home with bevel-back weatherboard, TGV soffits with exposed flying rafters and a pathway guided by well-manicured boxed hedging leading you to the front door. The weatherboards, bargeboards, windows and doors were cedar with the extension clad in pine.
Paint Assessment and Preparation
The properties paint condition was assessed and subsequently priced to wash down, scrape and sand loose material, treat rusted areas, undercoat, fill, sand and topcoat. During the paint preparation process there were a number of small replacements done to rotten weatherboard and soffit timbers. A larger job was the removal of the rotten decking at the front porch and rebuilding for painting. The house was also fitted with double-glazing in conjunction with Whisk Renovators painting the property.
All surfaces prepared were then applied with Dulux Total Prep. Scraped areas were "feathered out" to eliminate mapping (the removal of paint back to bare timber in places and not in others which is noticed in the form of an uneven surface finish). Scrapers have a tendency to burnish the wood, making it too smooth and shiny to take paint so we machine sanded surfaces with 80-grit sandpaper to get a good tooth for the first coat of primer to adhere to. The result was a sound smooth surface.
Dulux Total prep was applied as the first coat followed, by contract filling of holes and indentations. All surfaces were again sanded, filled areas primed and gap sealant applied. Two coats of Weathershield X10 Semi gloss were applied as a finishing coat. The Windows and doors were finished in Dulux Aqua-enamel gloss.
At all times during the preparation and painting, we contained any removed materials, protected the garden and used our industrial vacuum cleaner to ensure all areas were clean and free from contaminates.
Picking the new colour palette
Whilst the clients had an idea of what colours they would prefer applied to the various locations, it was selecting the tone to apply to each area that they needed our guidance on. The property has sun on every side, but at different times throughout the day, resulting in some sides being largely shaded and then appearing darker than they would prefer.
We were able to work through the options to be considered:
Radiosity. This is a rendering method that simulates light reflecting off one surface onto another, which can change the appearance of colour applied.
The fading of colours over time. If the choice is between 1/8 and 1/4 then maybe a slightly darker colour would be more suited.
Considering their environment – building nearby, trees, shady areas, sunny areas etc.
All these factors play an integral part in deciding on a colour palette.
The colours chosen were simple and very effective, as the house had enough character in its construction, materials, and light. The colour simply linked all these elements together to produce a beautiful looking home.
Distinguishing Features
Hohiria Road Hataitai Wellington is synonymous with character homes of Wellington. It epitomizes a cute Wellington Villa and is located in a sunny suburb on a flat site with well-manicured grounds.
The home has been renovated, all the while maintaining the original features of its era.
It is well balanced with the bay window, front porch and landscaping to the front section.
The front fence is original and gives great depth to the property with the entrance porch and timber decoratives of the house behind it.
From the street, the front entrance alcove is extremely inviting, leading you to the statement red front door.
Villa with double-glazing, modern kitchen and French doors to sunny private rear section.
The property boasts timber decoratives on all elevations of the exterior. These include above the windows, entrance balustrade posts and weatherboarding. These features distinguish the home and its era and have been retained and provide elegant lightness to complete its solid construction.
Products Used
Dulux Total prep
Dulux Weathershield X10 Semi gloss
Dulux Aqua-enamel gloss.
The property was completed late December 2013 and has been admired by many in the suburb. The Clients are extremely happy with the processes quoted and the workmanship with which it was carried out. All maintenance work was done as discovered and in doing so, protected the properties character and integrity. They are thrilled with the properties look and feel and are enjoying the new colour scheme no matter what side the sun is on.
If you would like a no obligation quote Contact Jeff at Whisk Now