KAIWHARAWHARA: Curnow Way, Contemporary, Exterior
New Zealand Silver Award Winner of 'Rework Exterior Contemporary'
Reasons why this Property Won
The property is owned and manicured by a Multi Award Winning Interior and Landscape designer.
Quality workmanship with attention to detail, coating systems and colour choices.
Protection of mature plantings when scaffolding.
Happy customers and positive feedback from people passing by.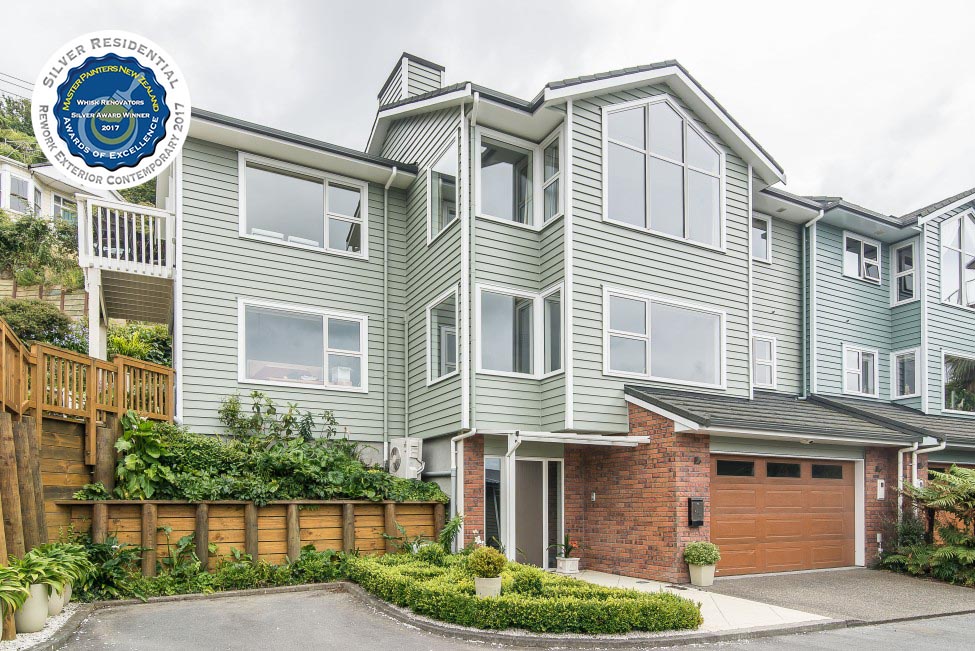 Properties Composition
The proud owner of this contemporary attached dwelling is a multi-award winning Interior and Landscape designer with this very property being a testament to her skill and a 'show piece' to her prospective Clients. Beautifully manicured gardens, a private courtyard and spectacular views surround the 2006 dwelling.
Processes, Products and Paints
Prior to starting we discussed with the client the care required when erecting the scaffolding, as this needed to be installed in her garden. We listened to her concerns and came up with a plan that significantly minimised effect to these areas and executed the plan with great success.
Colours were discussed to ensure existing aluminum joinery would remain in keeping with the proposed colour scheme.
Existing surfaces were washed down, loose material removed, exterior surfaces sanded, a full undercoat applied (Dulux Total prep), followed by two coats or Dulux Weathershield x10 Semi-Gloss.
Exterior Colour Combinations
We used colour to focus attention on the features of the home exterior. Colours were chosen around the existing roof colour being dark (allowing the height from the front to appear shorter). We used off-white from the whites and neutrals palette on the soffit, barge boards and fascia to tie in the windows. A third contrasting accent colour was used to punctuate the front door, which complemented the natural wood finish garage door and trellis.
Distinguishing Features
Balance, proportion and symmetry unite to epitomise a beautiful contemporary dwelling.
Exterior plastered block wall on the lower level.
Elevated views on every level.
Private sun drenched deck and courtyard.
Manicured gardens.
Distinguishing Features
Dulux Total Prep
Dulux Weathershield x10 semi gloss
This property was completed in November 2016 and has been admired by many in the suburb. The clients were extremely happy with the processes, products and workmanship with which it was carried out. They are thrilled with the properties look and feel, and are enjoying how the colour scheme brings the beautiful outdoors spaces inside.
If you would like a no obligation quote Contact Jeff at Whisk Now